Recorded Webinar: Ransomware protection for backup data with CLOUDBRIK T2 – SO SECURE!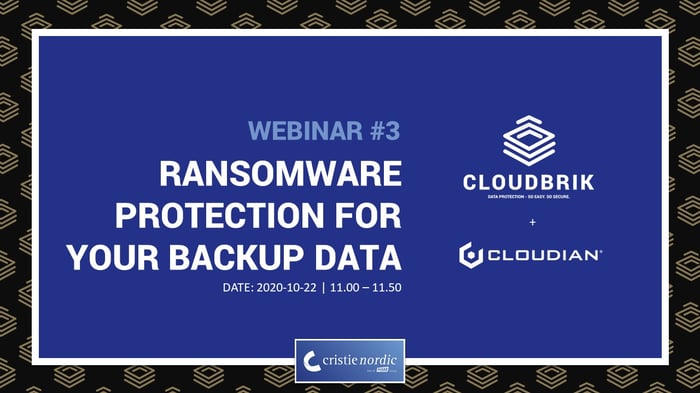 Recorded Webinar:
Ransomware protection for backup data with CLOUDBRIK T2 – SO SECURE!
Attacks can strike even the best-prepared, making it essential to mitigate the effects of a successful breach. Here, the best line of defense is at the storage layer, where the data is written.
Welcome to Cristie & Cloudian webinar and learn how and why you can build your on-premises WORM object storage.
How an on-premises object storage solution can protect your data from Ransomware
Protect any data, including your backup data with WORM
Veeam and CommVault certified solution
Recorded Webinar:
CLOUDBRIK QUESTIONS AND ANSWERS
Can I use Cloudian WORM for any S3 application?
Do you have any case study for Kubernetes and Cloudian to share?
How is the total cost of ownership with Cloudian object storage compared to NAS or other storage?
It depends on situation and design but overall it´s an easy to manage solution with high reliability (14 x 9th) and typical a TCO saving.
How is availability between replicated and erasure coded designs?
A replicated solutions is typical 5x9 availability and an erasure coded solution is up to 14x9. You will also get a higher efficiency with erasure coding.
Is it possible to tier data to Azure?
Yes, we have an API to Azure as well and all other S3 based clouds.
How sure can we be that the WORM functionality protects us from external attacks? Please evolve!
WORM is secure, the only way to destroy the data is by going into the DC and physical destroy the discs.
Do you support Temporary security credentials (AWS STS)?
Yes, in the latest version we do.
Can you tier into tape?
Yes, with Cristie latest value add to Rubrik and Cloudian we can now tier S3 data to tape.
Thank you for attending!
Joahn, with he´s team: Ulrich & Magnus