Webinar: Don't Pay the Bad Guys – Ransomware Protection with CLOUDBRIK T1 – SO SECURE!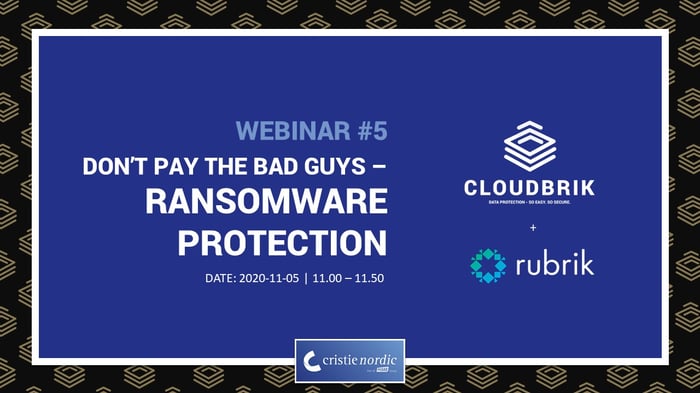 Welcome to Cristie & Rubrik Webinar: Don't Pay the Bad Guys – Ransomware Protection with CLOUDBRIK T1 – SO SECURE!

There's no need to pay the ransom.
Recover quickly and painlessly with immutable backups. With ransomware attacks growing in frequency and sophistication, more and more organizations are forced to weigh the difficult decision of whether they give in and pay the ransom or try to recover without issuing payment, risking extended downtime and fragmented data recovery.
With Rubrik, the choice to recover doesn't have to be a risky one. Rubrik's native immutability prevents backups from becoming encrypted, making recovery a quick and painless process, and enabling your company to return to normal business without having to pay a costly ransom.
Optimize your ransomware remediation with Rubrik's immutable backups and end-to-end encryption.
Strategize for early detection and fast restoration to your most recent clean state.
Recover quickly in the event of an attack with minimal data loss.
We have two very experienced speakers! Salvatore Buccoliero and Magnus Thunberg.

Short about Salvatore Buccoliero, he is a Rubrik Channel SE covering Nordics and Baltics. He has worked in the data recovery area for many years and have been part of several disaster recoveries.
Short about Magnus Thunberg, Solution Enabler Leader Cristie Nordic AB. Been working at Cristie since 2012 with assisting customers to optimize their solutions.
Date: Thursday 5th of November from 11:00 to 11:50
40 minutes session + Q&A 10 minutes.
(Not sure you can participate? Sign up anyway and get the recorded session after the webinar).


Make sure to sign up in the form below to secure your registration!
Welcome,
Cristie and Rubrik