Webinar: Cloud Strategies and Solutions with CLOUDBRIK T1 – SO EASY!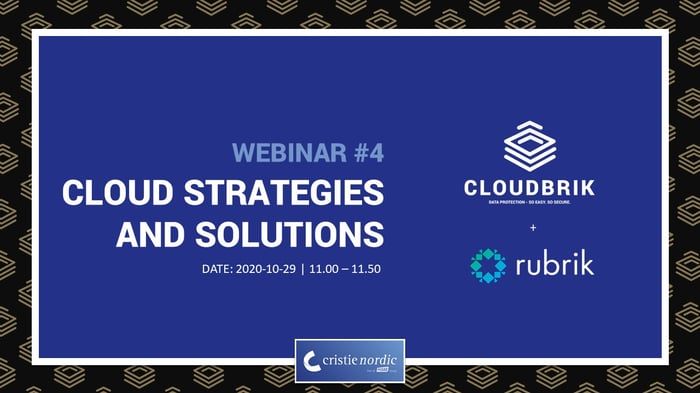 Welcome to Cristie & Rubrik Webinar: Cloud Strategies and Solutions with CLOUDBRIK T1 - SO EASY!

With an ever-increasing number of cloud combinations, from private to public to hybrid to multi, it's no wonder that IT pros and decision makers constantly seek out new guidance around how to formulate a coherent cloud strategy. With so many cloud solutions available, the challenge for IT organizations is how to find the right cloud solution to solve the unique challenges that they are facing in their data center.
Learn about the reasons for adopting a hybrid cloud solution
See how Rubrik can accelerate your journey to the cloud
Discover ways to get more out of data protection in your hybrid cloud or multi-cloud environment
We have two very experienced speakers! Salvatore Buccoliero and Magnus Thunberg.

Short about Salvatore Buccoliero, he is a Rubrik Channel SE covering Nordics and Baltics. He has worked in the data recovery area for many years and have been part of several disaster recoveries.
Short about Magnus Thunberg, Solution Enabler Leader Cristie Nordic AB. Been working at Cristie since 2012 with assisting customers to optimize their solutions.
Date: Thursday 29th of October from 11:00 to 11:50
40 minutes session + Q&A 10 minutes.
(Not sure you can participate? Sign up anyway and get the recorded session after the webinar).


Make sure to sign up in the form below to secure your registration!
Welcome,
Cristie and Rubrik