Recorded Webinar: Bring the cloud home! On-prem S3 object storage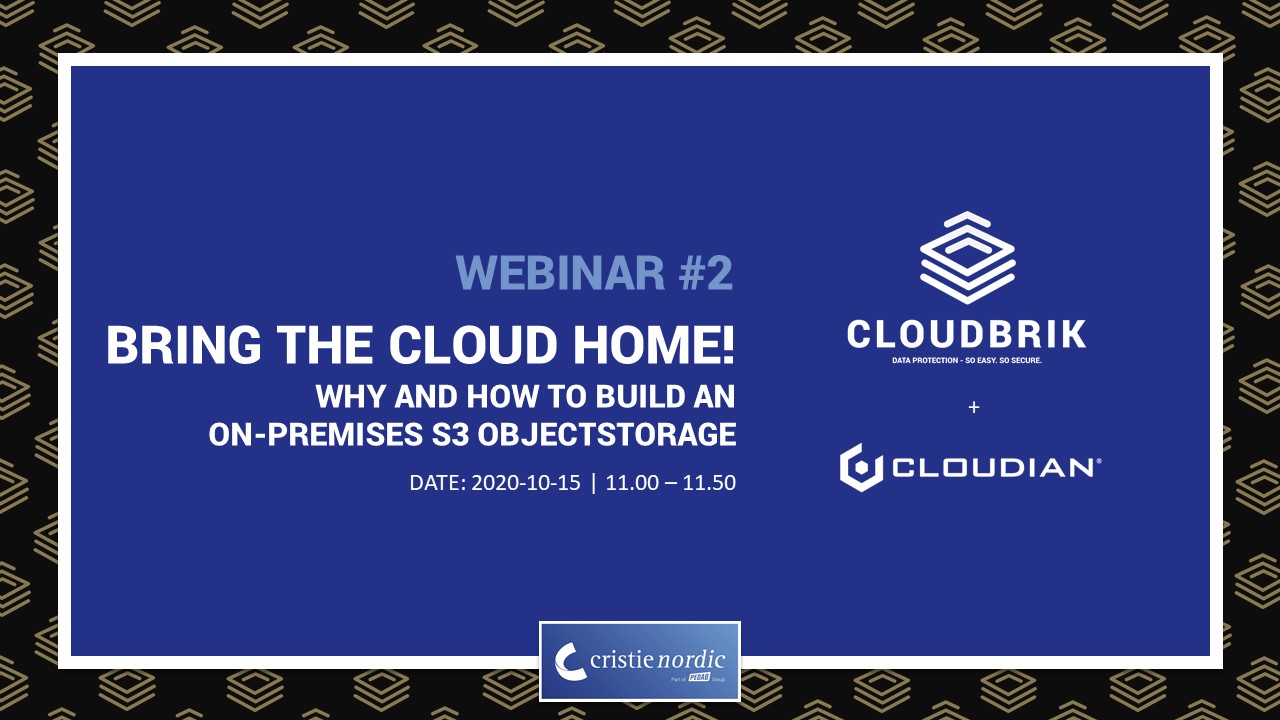 Recorded Webinar:

Bring the cloud home!
Bring the cloud home! Why and how you should build an on-premises S3 / object storage with CLOUDBRIK T2 – SO SECURE (Cristie & Cloudian)
Data is growing and management of it goes with hardware investments, service contracts and more work. With an on-premises object storage you will secure your data storage at lowest TCO and secure your data inside your firewalls at an operational cost (OPEX).
Why you should invest in an on-premises object storage
How to design your object storage
How to optimize you TCO
Recorded Webinar:
CLOUDBRIK QUESTIONS AND ANSWERS
Can you help us with a hardware design to use software-only?
Yes, you can get either software or appliance. When designing on software we will assist you with chosen hardware (x86 by choice).
Is any other object storage vendor 100% S3 guaranteed?
We don´t know any other giving the guarantee and following AWS S3 to 100%.
Is HyperFile charged extra?
If you purchase appliance, then you need to purchase a file-storage appliance. If you use software you are free to use HyperFile for free on your own VMs or hardware.
Can we tier to any other S3 storage?
Yes, we can tier to any S3 including other Cloudian clusters and free tiering to CLOUDBRIK T3.
What does it mean that Cloudian is Veeam Ready?
Because we are AWS S3 guaranteed, all new features and applications are compliant and easily certified by the vendor. We where the first to be approved by Veeam for Veeam Ransomware Protection. Learn more at the next webinar: Ransomware Protection
Is the portal multi-tenant and how?
Yes, it will help you managed different customers/units/projects, buckets and billing.
Do you need gateways and admin nodes in Cloudian?
No need, the design is an all-included design for both appliance and software.
For Distributed EC (3DC distribution), is it minimum 12 appliances?
No, this was an example in the webinar, we can design in several ways with less nodes.
Multiple Active directory support for Hyperfile? (multi-tenant)
Yes, you can work with virtual HyperFiles per customer as an example. Se more in the webinar.
Thank you for attending!

Make sure to sign up in the form below to secure your registration!
Welcome,
Cristie and Cloudian