Difference between SPFS and Spectrum Scale
Cristie have added the SPFS filesystem as an option to Cristie Backup Solution. SPFS is a great hit for our customers and we see a lot of opportunities to Protect a lot more workloads like MySQL, PostgreSQL, Casandra and more, using the enterprise backup solution Spectrum Protect from IBM.
From time to time we get the question what is the difference between Spectrum Scale and SPFS?
Can I use SPFS instead of Spectrum Scale or should I have both?
Before we start to show the differences between Spectrum Scale and SPFS we need to get some context by explaining what Spectrum Scale and SPFS is.
Spectrum Scale
IBM Spectrum Scale is a Global single namespace filesystem where you can share files between different servers, clients and applications and everyone can read/write to the same file without lock conflict.
Spectrum Scale is a cluster filesystem spread out on multiple cluster nodes and you can scale a single filesystem up to a Yottabyte or should I say, big enough for most of us.
One or more filesystems can be shared to multiple clients so an application or client sort of have an unlimited storage and you can write data to that filesystem using local mountpoint, shares (NFS/CIFS) or Object (S3), from here you can backup your application to the Spectrum Scale filesystem.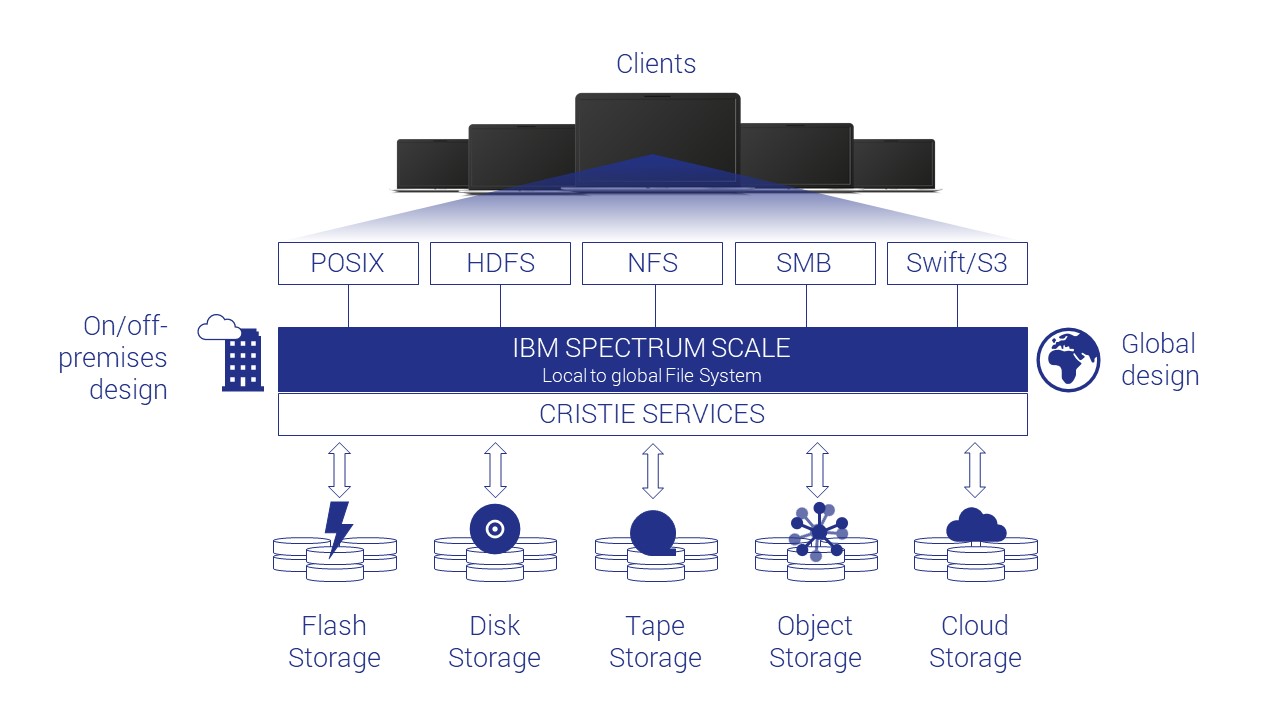 From that filesystem you can manage your data using policies and move your data to different tiers of storage automatically. That mean if you have hot data you maybe want it to stay on NVMe disk and cold data on regular disk or even migrate that data to Tape or S3 Cloud storage, both private or public Clouds are supported.
One of the storage tiers can also be IBM Spectrum Protect, so this is where your application backups would end up according to the policy.
What does SPFS do then?
SPFS stands for Spectrum Protect Filesystem, SPFS is a small binary that creates a virtual filesystem and is mounted like a regular filesystem on a local Linux machine. To do backup a file you just copy the file to the SPFS mountpoint.
This small binary is using the Spectrum Protect Backup-Archive Client API to login and can read and write to a Spectrum Protect Node Filespace. This is only used 1:1, that means that each SPFS installation has its own node in Spectrum Protect, and it will not be shared between multiple hosts like Spectrum Scale can do.
When you mount the SPFS filesystem you have a POSIX filesystem so it will be very easy to list all your backups and adapt your application to backup direct to Spectrum Protect. This is a quick and easy way to get a IBM supported backup of any application like opensource databases.
To check the backups, you use the linux command 'ls'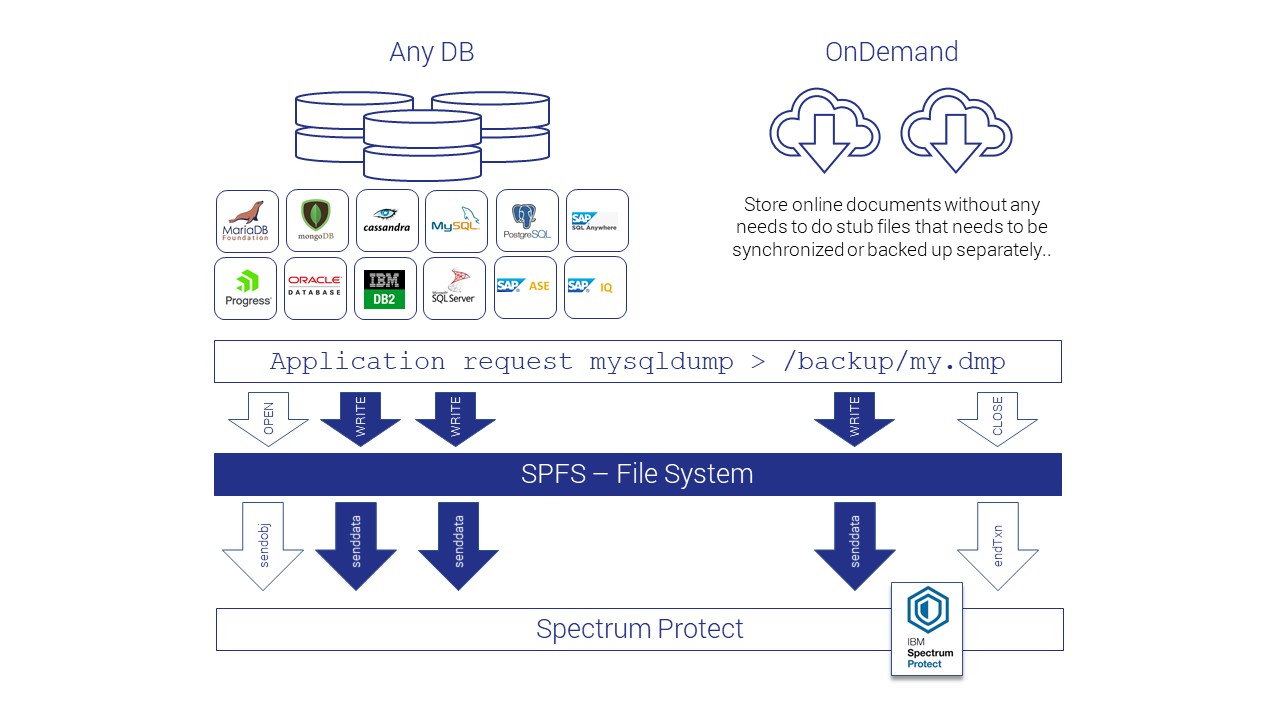 When you write to the Linux SPFS filesystem it will automatically write that data to your Spectrum Protect Server, no local cache needed, and store the data to your Spectrum Protect Storage Pool, and the other way around when you read the data from Spectrum Protect you can restore the data direct without copying the data from your backup server to local disk, it saves you diskspace and the need to copy files around.
Another function in SPFS is that i keep versioning of your files. If you overwrite a file SPFS and Spectrum Protect will automatically rename the old file.
What is the difference?
So, from here we can easy understand the difference between SPFS and IBM Spectrum Scale even if both can in the end move data in to IBM Spectrum Protect and track versioning of your files automatically.
IBM Spectrum Scale is a scale-out filesystem that require local attach disk and can then tiering the data out to Spectrum Protect. It is good for keeping hot data on high performance tier and move out the data to cheaper tier after a wild, in mean wild SPFS is 1:1 scenario where one application has its own node and filespace in Spectrum Protect and don't require any disk.
#AtYourService