Beyond Backup & Recovery – Modern Data Protection for O365
I´m happy to have Mr Roland Leins, Business Development Executive for Storage Software, Europe at IBM as a guest blogger today!
Thank you Roland for sharing your thoughts in #CristieBlog!
Welcome to today´s blog from Mr Roland Leins: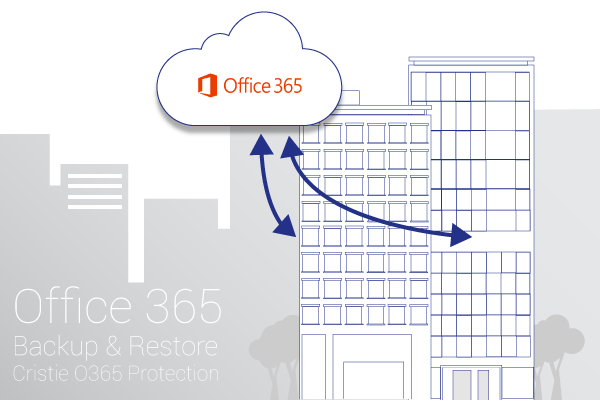 Modern Data Protection with IBM Spectrum Protect Plus for Microsoft Office 365 - Going beyond Backup & Recovery
IBM Spectrum Protect Plus is redefining the industry paradigm of data protection by making information assets traditionally trapped in backup repository usable for their data owners again, by uncompromised simplification and building an unmatched cyber resilient infrastructure. Recently IBM announced new capabilities in its modern data protection suite, IBM Spectrum Protect Plus for Microsoft Office 365.
The principles of IBM Modern Data Protection
Modern data protection solutions (Modern data protection data sheet (119 KB) ) from IBM provide more than just backup and recovery. They also let you maximize business uptime, lower storage and operational costs, and support cyber resiliency:
Role-based access control (RBAC), REST APIs, SLA-based policies and a drill down dashboard let you maintain control while providing data copies to developers and database administrators.

Cut data backup and recovery infrastructure costs by over 70% with built-in data reduction technologies and cost-effective storage for data offload.

Make sure your data is secure from the growing number of cyber threats and that your data retention policies adhere to industry regulations.
IBM Spectrum Protect Plus, is an all-in-one data protection solution for VMs, databases, applications, and containers in hybrid multicloud environments. It facilitates data reuse for operational recovery, testing, application development, analytics, and much more.
Standalone or integrated with IBM Spectrum Protect simplifies data protection, whether that data is hosted in physical, virtual, software-defined or cloud/multicloud environments. Reduce data backup infrastructure costs with deduplication, incremental 'forever' backup, and policy-based administration.
IBM Spectrum Protect Plus data offload solutions (View the data offload paper (2.2 MB)) leverage a vast array of low-cost, durable and highly scalable storage options for long-term data retention, data compliance and disaster recovery.
Microsoft Office 365 data protection challenge
ESG research (ESG Master Survey Results, 2019 Cloud Data Protection Strategies, June 2019) shows that 71% of organizations leverage Microsoft Office 365 solutions. Inarguably, this suite of SaaS applications is critical to keep any organization up and running, yet the lack of protection of its data is pervasive: One in four (27%) organizations do not have Office 365 recovery capabilities. There is a significant gap between what Microsoft's native data protection provides vs. your responsibilities.
While Microsoft provides protection against loss of service due to hardware failure or natural disaster and short-term protection against user and admin error (for example Outlook does not backup emails older than 30 days that have been deleted from the bin) based on a standard one-week Microsoft backup schedule, you must make sure to provide protection against data loss due to accidental deletion, hackers, ransomware, malicious insiders or departing employees as compliance with regulations and requirements for data access goes well beyond typical backup methods.
For these reasons in the Service Availability section of its Office 365 Services Agreement Microsoft recommends third-party backup.
IBM Spectrum Protect Plus for Microsoft Office 365
Earlier this year IBM launched IBM Spectrum Protect Plus for Office 365 adding to IBM's Modern Data Protection solution the ability to protect, manage, and reuse Microsoft Office 365 data in the same way as you protect, manage, and reuse all of your other important corporate data.
IBM Spectrum Protect Plus for Office 365 offers features equivalent to the data protection solution for VMs, databases, applications, and containers in hybrid multi-cloud environments such as:
Initial full backup of Exchange Online, OneDrive storing data in native format

Incremental forever backup

Full mailbox, Calendar, Contacts restore

Full OneDrive Folder level restore

Offload data to Object storage or Spectrum Protect server for long te

rm retention

IBM Spectrum Protect Plus currently supports offline backup copies of Microsoft Office 365 Exchange and OneDrive. The incremental forever backups are based on Microsoft delta queries. The backups are stored on local IBM Spectrum Protect Plus storage and managed by IBM Spectrum Protect Plus.
IBM Spectrum Protect Plus for Office 365 can be run as an Office 365 only data protection solution or for even lower cost, it can be automatically managed and integrated with a Spectrum Protect Plus and Spectrum Protect environment. The described IBM Spectrum Protect Plus data offload solutions allow you to archive Office 365 data out-of-the-box to comply with HIPPA, GDPR, and other regulations which often require firms to keep complete and accurate records of email, attachments, files and related information for many years.
Anyone can be a data protection expert by using IBM Spectrum Protect Plus - Get started quickly
IBM Spectrum Protect Plus for Office 365 is easily deployed as a virtual appliance and the agentless architecture is easy to maintain. To get quickly started on how to setup and to do on-demand backups and restores of Office 365 Exchange with IBM Spectrum Protect Plus watch the following videos published by Tricia Jiang, Global Technical Enablement Specialist, IBM Systems on YouTube:
For more insight launch the interactive demo, where you can follow the task scenarios that are provided or explore the sample environment on your own. Not all product capabilities are included.
IBM Spectrum Protect Plus for Office 365 licensing is based on per user per month, which allows for an easy consumption of the data protection capability flexible aligned with the client licensing demand and with Microsoft licensing model.
At Cristie we can provide you the solution as licenses, or functionality within our services (Cristie Backup Solution) and as Cloud offerings with our partners.
Thank you for reading and thank you Roland for sharing!
IBM Spectrum Protect DataSheet >
Contact us and we will show you more